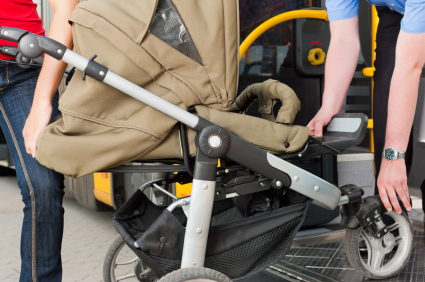 City dwellers have two clear options for transportation: take the car, which, in large metropolitan areas, is both a benefit and a liability, or opt for the bus. Particularly for those looking to not own or for those who can't afford a vehicle, taking the bus is extremely convenient – except when you're a parent. Strollers, along with diaper bags, are large and bulky and frequently need to be folded up before you get on the bus. If you're traveling by yourself, the baby often has to be placed on the seat first before the frame is folded. In this case, the child wakes up from a nap or, worse, may slip off if the driver won't wait.
San Francisco, until recently, was strict about strollers being brought on public transit. As a result, drivers determined if a passenger with a stroller could come on board. From there, the parent was required to fold up the stroller.
As of March 1, change came to the San Francisco Municipal Transit Association, or "Muni" shorthand, for parents. Partially as the result of complaints but also to make the system more family friendly, a new policy went into effect.
Drivers now have to let all strollers on, unless the vehicle is a cable car. When the vehicle is not crowded, the parent can even keep the child inside the stroller, just as long as the baby is strapped in, the stroller's wheels are blocked, and it does not block the aisle. Parents, instead of lugging their supplies up a set of stairs, can even use the lift ramp. If the vehicle happens to be crowded, the stroller can come on, just as long as it is folded. Drivers, in this regards, can ask a passenger to assist a parent with folding the frame.
Related articles